there is sadness, there is joy
...Night Owl has left us...
(adapted from an OPJFC Forum post, 5 April 2001)
It is with a tremendously heavy heart, I must relay the news just in to me that our beloved Night Owl (aka Carl Bass) has passed from this earth and on to all sorts of new adventures of which he was always so skeptical.
As many of you know, Night Owl spent many years on this earth, just passing his 73rd birthday last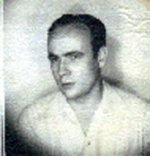 October. He lived the life of a very contented bachelor and spent every moment of every day in the act of creating beautiful works of art as a professional potter. A native of Illinois and raised by his aunt during the Depression, he joined the Navy during World War II, stationed in the Phillippines. Returning after the War to care for his aging mother, he moved into the home where he lived for the rest of his life. Night Owl followed a career in professional pottery, pursuing his education to achieve degrees in art and psychology.
There was a story he often told of his major heart attack six years ago, and lying in the hospital after being told his days were numbered - as most people do under those circumstances - he found his escape by watching television. It was then he actively, with a renewed zest for life, dove into cyberspace and computer technology and art programs, and finding a place for himself among the fans of Highlander: The Series.
I met him online three years ago and watched him develop this avid interest in computers and online activities, and I will be eternally grateful he was so in love with Elizabeth Gracen he chose to stay with us all through Highlander: The Raven, and to our place on the Internet. His activity as the Paul Johansson Fan Club's Master Printer led him into even new adventures and learning experiences, and he never once faltered nor complained (well, ok Carl, maybe a little) in his efforts to provide the members of the OPJFC the BEAUTIFUL printouts everyone has loved.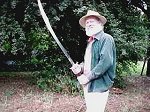 A post from Night Owl was always a pleasure, filled with humor, and historical tales (real and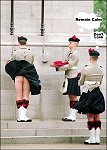 imagined, from Ancient Greece to yesterday), and bringing with him a huge library of information for books and art and social philosophy on almost any topic. You rarely could guess ahead of time whether his posts would contain wit or wisdom, but you always knew they would be interesting.
Christmas of the year 2000, Night Owl chose to usher in the new century by purchasing a digital camera, and spent the last 18 months of his life photographing the most unusual things with his new toy and taking them into his computer art programs. Finding pride in using the most modern technology, the results of Night Owl MacMerlin's work fully display his keen eye for color and design in every realm of this world. The images you find on this site are a collection of those last works.
Night Owl made many cyber-friends along the way by sharing his kindness and thoughtful words to ease sadness; to cheer on the insecure with words of unfailing encouragement; and just voicing backyard chat on politics and religion and the Bureaucrats-That-Be in very logical and knowing ways. The lives of those who knew him have been enriched by his presence, and we will miss him.
~Firinn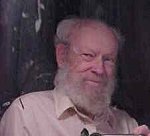 Carl Emsley Bass
---
CLICK HERE FOR NIGHT OWL MacMERLIN'S SELF-PORTRAITS
---